UNFCCC COP20 official side event
"Realization of Blueprint for Low Carbon Societies in Malaysia and throughout Asia"
| | |
| --- | --- |
| Date | Thursday, 11 December 2014 |
| Time | 16:45 -- 18:15 |
| Venue | Caral, Cuartel General del Ejercito del Peru (conference venue, Lima, Peru) |
| Organized by | National Institute for Environmental Studies (NIES, Japan), Universiti Teknologi Malaysia (UTM, Malaysia) |
|  Flyer |  Flyer |
Photo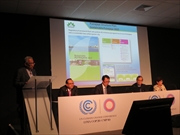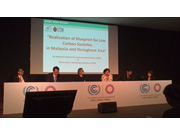 Overview of the side event
We will introduce our latest research outcomes relating to national and local implementation plans throughout Asia, which were developed based on scenario analysis using the Asia-Pacific Integrated Model (AIM). We will then discuss how to realize planning towards sustainable low carbon societies in Asia.
This side event will particularly focus on case studies for Iskandar and Putrajaya in Malaysia, and discuss how it will be possible to realize our research outcomes of low carbon scenarios by integrating knowledge and experiences from Japan's local governments, such as Tokyo Carbon Reduction Reporting Program by Tokyo Metropolitan Government, and Eco Life Challenges for Primary School by Kyoto City, as well as making use of international activities, such as Sustainable Energy for All (SE4 ALL)*1 and Regional Centre of Expertise (RCE) on Education for Sustainable Development (ESD)*2. We will also discuss the climate change policy which Japan should adopt in collaboration with other Asian countries.
*1: Iskandar Malaysia has been selected as one of the partner cities in the Global Energy Efficiency Accelerator Platform of the Sustainable Energy for All (SE4 ALL), which has been initiated by the United Nations.
*2: Iskandar Malaysia has also participated in the RCE on ESD.
Program
16:45-16:55

Welcoming Address

Ambassador Masahiko Horie, Government of Japan
Prof. Dr. Nordin Bin Yahaya, Senior Director, UTM International, University of Technology (UTM) Malaysia

16:55-17:15

Opening Remarks & Key Note Speech

Y. Bhg.Datuk Loo Took Gee, Secretary of Ministry of Energy, Green Technology and Water, Government of Malaysia

17:15-17:30

Prof. Dr. Ho Chin Siong, Project Manager, University of Technology Malaysia

17:30-17:40

Milestones towards PGC 2025; Putrajaya Bikeable City & Scheme for Reduction of Energy Consumption in Buildings

Dato' Omairi bin Hashim, Vice President (City Planning), Putrajaya Corporation

17:40-17:50

Ms. Yuko Nishida, Tokyo Metropolitan Government (TMG)

17:50-18:00

Dr. Junichi Fujino, Senior Researcher, National Institute for Environmental Studies, Japan

18:00–18:15
Questions and Answers