Outline
The international community has recognized the need to reduce greenhouse gas (GHG) emissions by 50% until 2050 in order to keep the change in global mean temperature within two degrees centigrade compared to preindustrial times. In order to achieve this target, it is imperative to develop low carbon societies (LCS) in Asia, as the Asian countries will account for more than half of the global population and GHG emissions in 2050.
The objectives of the Asia LCS Research Project are to establish a vision of LCS in Asia, and to develop comprehensive methodologies to design and evaluate policy options based on robust scientific knowledge and the multifaceted needs of each county. The project explores and identifies such development pathways through four research perspectives: (1) LCS scenario development, using global-, national-, subnational- and city-scale models, (2) institutional architecture for LCS, (3) resources management, and (4) low carbon transport systems. By integrating the outcomes of these studies, this project will identify policy roadmaps to facilitate a transition to Asian societies characterized by low carbon emissions, low resource consumption and robust economic growth.
Low-Carbon Asia Research Project is funded by Environment Research and Development Fund of the Ministry of the Environemnt, Japan(MOEJ).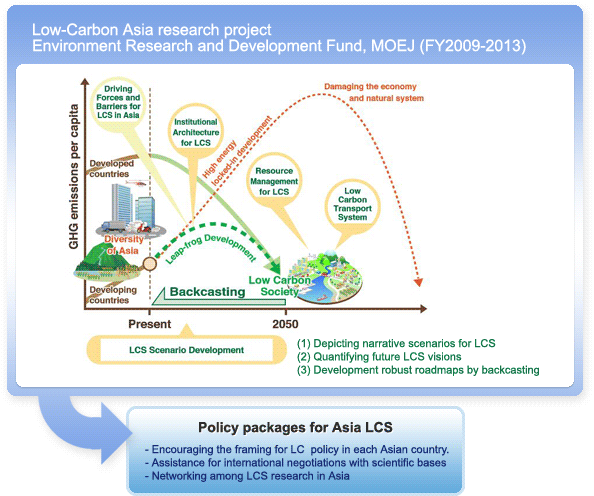 REPORT